Submitted by

Executive Officer

on Mon, 2017-05-15 10:36
Annie Styles highlights her experiences of introducing visiting Mercian library staff to the University of Nottingham's wonderfully refurbished science and engineering library.  And for once, there really was a test at the end!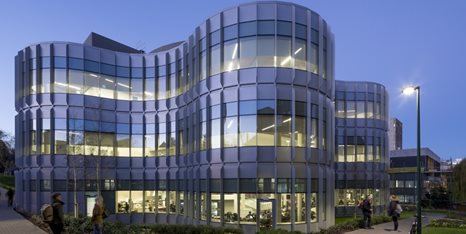 After years of building work, it was fantastic to be a part of George Green Library's opportunity to open its doors to fellow library staff and show off our finished building. Whilst members of the Mercian Collection travelled across the East and West Midlands to see The University of Nottingham's brand new Science and Engineering library, I was one of the members of the team ready to greet them and tell them about our fantastic new building.
Ask any member of the George Green staff about the last few years and they will tell you the many stories about controlled explosions and less-so controlled flooding! The other thing they will tell you is how wonderful it is to finally enjoy our state of the art facilities and to see how much our students enjoy it too. Which is why I was thrilled that other librarians and colleagues from different parts of the Midlands would be coming to have a look and to find out more.
The day began with a presentation, hosted by different members of the library, sharing personal experiences from the last few years. This included a range of stories from the initial stages of planning, the huge effort that went into moving books and journals over the years and from the problems we faced along the way. It was great to share some of these experiences before we took people on a tour of the building as it gave some insight into the enormity of the project as well as why we are all so proud of our new library.
The tours were a great success and took longer than usual due to the many questions that were asked throughout! It's always so wonderful to hear from other library colleagues about the similarities and differences that we all experience in the university sector. After that we took part in a quiz filled with brain teasers and questions related to the library and the journey it took to become the building it now is. Finally, we rounded off the afternoon with an opportunity to discuss some of the key areas involved in libraries with other members of the Mercian Collection.
Having only worked in the library sector for around a year it was fascinating to speak to other people from different universities and to see first-hand what they thought of our new facilities. It was also an amazing chance to hear a bit more about other ways of working and different approaches to library management. The feedback we received from our attendees was great and I know myself and all of my colleagues thoroughly enjoyed the afternoon. It was great to take some time out of our normal routine to appreciate what we've achieved and to listen to what others had to say.
Further All the Same...But Different tours of Mercian member libraries will be announced later this year